As the heart of the home, The kitchen has long served as a multi-purpose space that caters to our various needs it is a place where we not only cook and eat but also where we engage in deep conversation, find peace after a long day and enjoy. Precious moments with our loved ones. In such an important setting, The furniture you choose can significantly shape the overall experience and atmosphere of your kitchen. A notable trend that is gaining traction in modern kitchen design is the inclusion of A kitchen table with A bench, Which offers both functional And social benefits while introducing A chic and contemporary aesthetic.
A modern kitchen table with benches can really enhance your dining experience. Combining practicality with style, This setup has the power to redefine how you interact with your kitchen space.
The table with bench design encourages A more communal and casual dining environment, encouraging interaction and intimacy. It introduces flexibility in room layout, providing a perfect blend of form and function.
So, whether you're hosting a large dinner party or enjoying a quiet meal alone, a kitchen table with benches seating can adapt to your needs while giving your kitchen a fresh, modern look.
What are the advantages of having a kitchen table with a bench?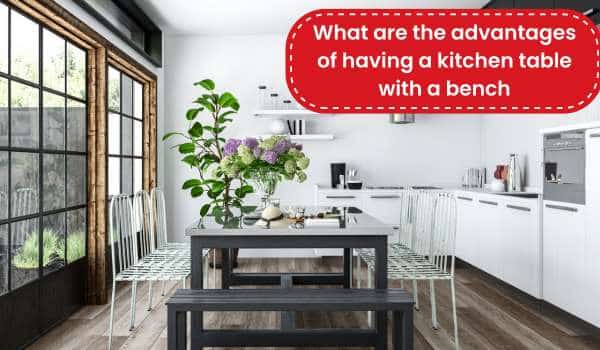 A kitchen table with a bench can offer countless benefits that enhance your dining experience.
Here Are Some Key Benefits:
Child Friendly: If you have children, a bench may be a more practical option. Children can easily climb on a bench and several children can comfortably sit together in one place.
Space efficiency: A bench can be tucked under the tables when not in use, freeing up more floor space and making the kitchen feel more open and less cluttered. This is especially handy in small kitchens where space is at a premium.
Seating capacity: Benches generally offer more seating than individual chairs. This makes them a great option for larger families or those who often host gatherings at home. It's easier to squeeze an extra person onto a bench than to find room for an extra chair.
Aesthetics: A kitchen table with a bench can give your kitchen a unique and contemporary aesthetic. It's an easy way to make your dining space stand out And look modern and trendy.
Flexibility: Benches can be used for more than just table seating. They can serve As extra storage space (if they come with built-in storage), can Be used as A temporary coffee table, Or provide extra seating in other areas Of your home if needed.
Comfort and Intimacy: While chairs provide individual seating, a bench encourages a sense of togetherness and can create a more intimate dining environment. This can encourage more interaction and bonding between family members or guests.
Cost Of Kitchen Table with Bench
It's important to note that the cost of A kitchen table with A bench can vary significantly based on factors such as the material, size, design, And whether it's custom-made or pre-made.
Here's A Rough Estimate:
| | | | |
| --- | --- | --- | --- |
| Material | Low-End Cost (USD) | Mid-Range Cost (USD) | High-End Cost (USD) |
| Wood (Pine, Oak) | 200 – 400 | 400 – 800 | 800 – 2,000 |
| Metal (Steel, Aluminum) | 150 – 300 | 300 – 600 | 600 – 1,500 |
| Glass | 250 – 500 | 500 – 1,000 | 1,000 – 2,500 |
| Composite/Engineered Wood | 100 – 200 | 200 – 500 | 500 – 1,000 |
Remember, These prices are only approximate. The actual cost will depend on various factors including the brand, Craftsmanship, And location. For an accurate price, it's best to check with local furniture stores or online shopping platforms.
Here are 11 Modern Kitchen Table with Bench
Stephanie 4 Seater Floating Acacia Wood Dining Table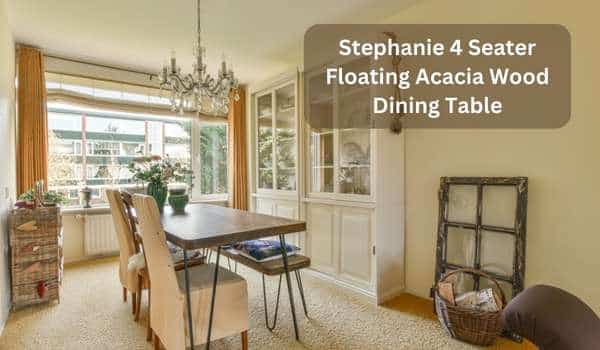 This modern kitchen table is a paragon of minimalist elegance. The "floating" design, a distinctive feature, gives the table sophistication and contemporary flair. Crafted from solid acacia wood, the tables exhibits a durable construction that ensures longevity. It comfortably accommodates four people, making it An ideal choice for small To medium-sized families. Acacia wood's natural grain adds an earthy touch to your kitchen, effortlessly complementing a variety of decor styles.
Dining Table with Benches 4 Seater
This dining set is characterized by a seamless blend of functionality and style. The addition has a sleek table and two benches, which can seat four people. The design promotes a communal dining atmosphere and maximizes seating space. Benches can be neatly tucked away under the table when not in use, ensuring your kitchen remains uncluttered and spacious. Clean lines and sleek finishes lend a modern aesthetic to any kitchen.
Wooden Trestle Dining Table in Neutral
This trestle table is an embodiment of rustic charm that meets modern sensibilities. The neutral color scheme allows it to blend well with a variety of kitchen decor styles. The wooden construction ensures durability while the trestle design provides stability and ample legroom. Paired with a comfortable bench, this dining set not only serves a useful purpose but also serves as a charming focal point in your kitchen.
Clifford Rectangular Pine Dining Table with 2 Benches
The Clifford dining set features a solid pine table and two matching benches. The rectangular shape of the table optimizes the use of space and makes it suitable for various kitchen layouts. Benches provide flexible seating and can be placed under tables to maximize floor space. However, Pine construction, known for its durability and distinctive grain, adds a warm and natural touch to your kitchen. With its simple design and functional features, the Clifford Dining Set embodies the essence of modern kitchen decor.
Zayn Wood Effect Dining Table and Bench Set
The Zayn dining set brings a stylish, contemporary feel to your kitchen with its sleek design and wood-effect finish. The set consists of a table and a bench, both of which exhibit a minimalist aesthetic that blends effortlessly with modern interiors. The wood effect provides a warm, inviting atmosphere to your dining area, while the durable construction ensures it stands the test of time. This dining set is perfect for those who appreciate understated elegance and functionality.
Latitude 6-Person Corner Table and Bench Set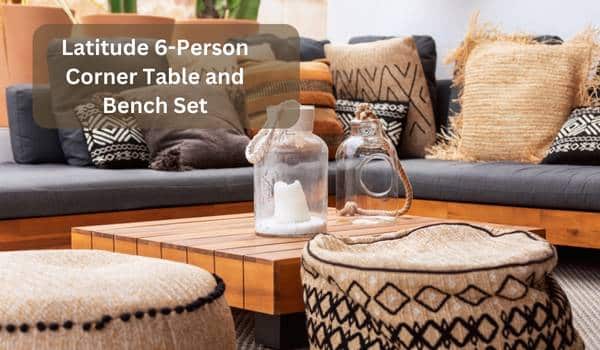 Maximizing space and seating, the Latitude corner table and bench set is ideal for large families or those who love to entertain. Accommodating up to six people, the set includes a spacious corner bench and a solid table. The corner design is a clever space-saving trick, ensuring the set fits easily into any kitchen corner. With its clean lines and modern silhouette, the Latitude set offers a harmonious blend of style and practicality.
Industrial Storage Dining Table with 1 Bench and 2 Chairs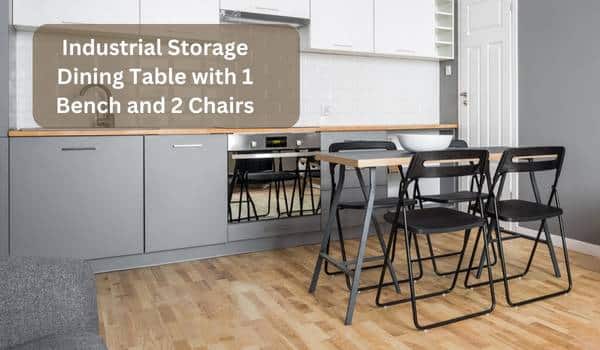 This dining set marries industrial design with functional storage solutions. The table has an under-surface storage shelf, perfect for housing dining essentials or decorative items. Additionally, The set includes a bench and two chairs, offering a variety of seating options to suit your needs The industrial aesthetic characterized by a solid metal frame and a wooden top gives your kitchen a sleek, chic vibe. It is An excellent choice for those who want to optimize their space while maintaining A distinct style.
Habitat Nel Wood Dining Table & 2 Oak Benches
The Habitat Nell dining set embodies timeless elegance with its clean design and quality oak construction. The set includes a sturdy dining table and two benches, offering ample seating while promoting a comfortable dining environment. Oakwood, renowned for its strength and beautiful grain, adds a touch of natural beauty to your kitchen. The simple yet stylish design of this set makes it a versatile addition to any modern kitchen decor.
Dining Table and Bench with Hairpin Legs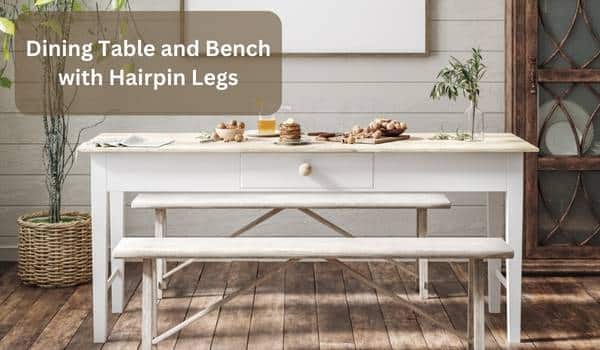 This dining set is a charming combination of vintage flair and modern aesthetics. Tables and benches have hairpin legs, a hallmark of mid-century design, giving them a distinctive, retro feel. At the same time, the simple, smooth surface of the table and bench ensures that they fit seamlessly into a modern kitchen setting. Besides adding visual interest, the hairpin provides strong support to the foot while allowing ample legroom. This dining set not only serves a practical function but also adds a touch of nostalgia to your kitchen.
Nala 4-Seater Dining Table and Bench Set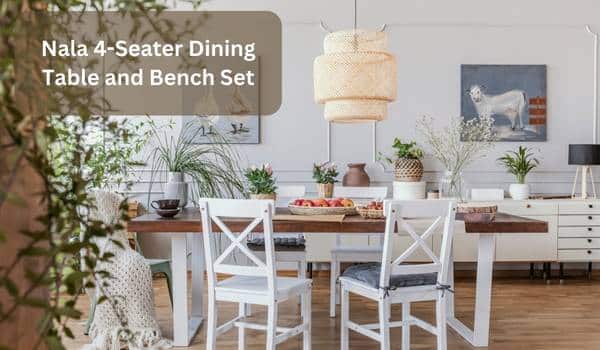 Nala dining set is perfect for those who love minimalist design. Able to accommodate four people, this set includes a stylish table and a matching bench. However, The design, with its clean lines and understated elegance, emphasizes functionality without compromising on style. The neutral tone allows this dining set to blend well with a variety of kitchen interiors, making it a versatile choice for the modern home.
Terra Dining Table and Bench Dining Set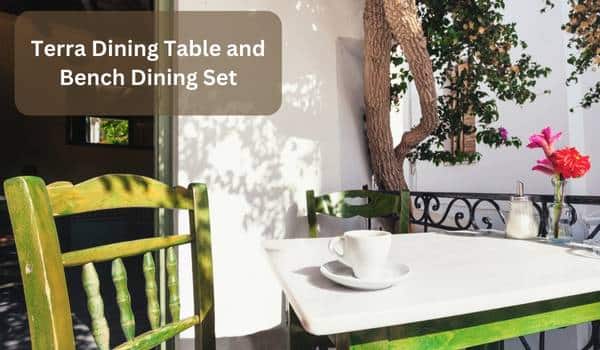 The Terra Dining Set embodies the essence of rustic modernity. Made from durable wood, the table and bench show a natural finish that brings a warm, earthy touch to your kitchen. The sturdy construction ensures longevity, while the spacious design provides ample space for comfortable dining. This dining set, With its rustic appeal and sturdy design, provides A comfortable and inviting space for friends and family to gather and share meals.
Features to consider when choosing a modern kitchen table with a bench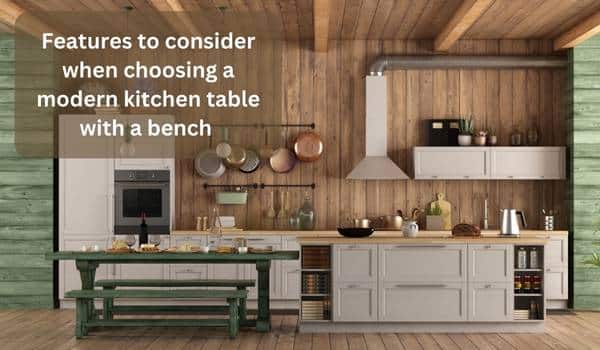 These elements can help ensure that you choose A piece of furniture that suits your needs, matches your style, And lasts for years.
Here Are Some Important Features To Consider:
Material and Durability
The materials of your kitchen table and bench play an important role in its appearance, durability and ease of maintenance. Common materials include hardwood (such as oak or maple), metal, glass, and composite wood. Hardwoods tend to be more durable and are good for a rustic or traditional look, while metal, glass or engineered wood may suit a more modern aesthetic. Whatever material you choose, Make sure it's durable, easy to clean, And resistant to scratches And stains.
Size and shape
The size and shape Of your kitchen table with bench will depend on the available space And how you plan to use it. If you have a small kitchen, a compact rectangular or round table may work best. For large kitchens or open-plan living areas, you can choose a large rectangular or oval table. The bench should fit comfortably under the table to save space when not in use.
Style and design
Consider the overall aesthetic of your kitchen. If you have a modern kitchen, look for a table with clean lines, minimalist design and contemporary finishes. If your kitchen has a rustic or farmhouse style, a wooden table with a natural or distressed finish may be best suited. The design of the bench should complement the table and overall kitchen decor.
Functionality and storage options
Consider how you plan to use the table. If it is primarily for dining, Make sure it is comfortable And spacious enough for your family or guests. If you plan to use it for work or study, look for A design with ample legroom and A comfortable bench. Some kitchen tables with benches also offer built-in storage options like drawers or shelves, which can be useful for storing table linens, cutlery or even children's art supplies.
Tips for incorporating a modern kitchen table with a bench into your space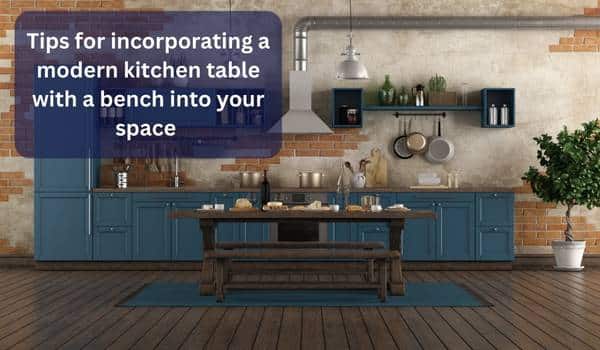 Incorporating a modern kitchen table with a bench into your space can significantly elevate its aesthetic appeal and functionality. Here are some useful tips to help you achieve a harmonious integration:
Proper measurements and layout planning
Before buying a table and bench set, it is very important to measure your space correctly. This includes not only the area where the table will be placed but also the path around it to ensure comfortable movement. In terms of layout, consider where the bench will go typically, it's placed against a wall or under a window.
Coordinating colors and finishes
Your table and bench should match or complement your kitchen's color scheme and finish. However, If you have a modern kitchen with glossy cabinets and smooth finishes, choose a table and bench with similar features. For a more eclectic look, consider a pop of color or a contrasting finish.
Choosing complementary seating options
When a bench provides enough seating, You may want to include additional seating options such as chairs Or stools, especially on the opposite side Of the table. Make sure these additional pieces are compatible with your bench in terms of material, color and style.
Personalizing the space with accessories
Accessories can bring personality to your dining area and make it feel more welcoming. Consider adding cushions or throw blankets to your bench for added comfort and a splash of color. Centerpieces, placemats and stylish tableware can also enhance the overall aesthetic appeal of your table.
Adjusting the lighting
Lighting can dramatically affect the ambiance of your dining area. Make sure the table is well-lit, preferably with A combination Of natural And artificial light. A pendant light or a chandelier hanging over a table can add both illumination and an interesting design element.
Maintenance and care for a modern kitchen table with a bench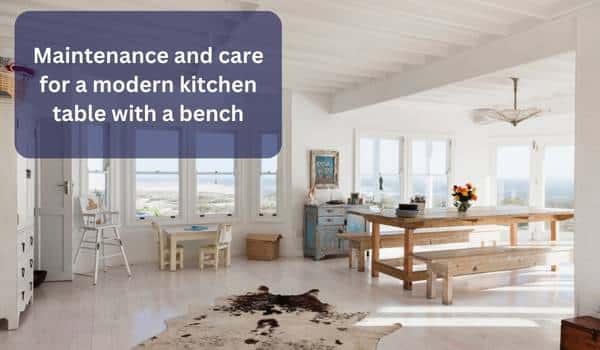 Maintaining a modern kitchen table with a bench can keep it looking its best for many years. Here are some tips to help:
Cleaning techniques for different materials
The cleaning method depends on the material of the table and bench. For wooden furniture, use a soft, damp cloth and a mild soap. Avoid soaking the wood or using harsh chemical cleaners, which can damage the finish. For glass, A simple glass cleaner will do the trick. Metal furniture can usually be cleaned with a damp cloth, although some types of metal may require a specific cleaner to prevent rust or tarnish.
Protecting the surface from stains and scratches
To protect your table from stains and scratches, always use coasters or mats for hot food or drinks and placemats or tablecloths during meals. Felt protectors can be used under tabletop items to prevent scratches. If your table is made of wood, consider using a table pad to protect the surface during activities like crafts or when the kids are doing their homework.
Regular maintenance for longevity
Dusting your tables and benches regularly can keep them looking fresh. Tighten any loose screws or bolts periodically to keep the furniture sturdy. However, If your tables and benches are wooden, consider re-oiling or re-waxing the surface every year to keep the wood healthy and vibrant.
Address Spills Immediately
Accidental spills are unavoidable. If they occur, remove them immediately to prevent possible staining or damage, especially on wood or fabric surfaces.
Cushion Care
If your bench has cushions, follow the manufacturer's cleaning instructions. Some cushion covers are machine washable, while others may require spot-cleaning or professional cleaning.
Regular Inspection
Periodically inspects your tables and benches for signs of damage or wear. If you spot minor damage early, such as a loose joint or a small crack, it can often be easily fixed and prevent more extensive damage later.
What materials are commonly used for kitchen tables with benches?
A variety of materials are used to create kitchen tables and benches, each offering unique aesthetic appeal and practical benefits.
Wood is a popular choice due to its durability, versatility and warmth, With hardwoods such as oak, maple And teak valued for their strength and grain. Pine is a softer, more affordable option that still offers a rustic appeal.
Metal tables, especially those made from stainless steel or wrought iron, provide an industrial, contemporary feel and are appreciated for their durability and easy maintenance.
Glass tables add a sleek, modern touch and can create a feeling of spaciousness, while composite or engineered wood options offer a balance of affordability and style.
Each material can create a different look and feel, So it's important to choose one that suits your kitchen design And your personal preferences.
The Final Thought
A modern kitchen table with a bench can really enhance your dining experience by adding a functional, stylish element to your kitchen. Be it a minimalist design made from sleek glass or a rustic wood ensemble, the options are varied and cater to different tastes and needs.
By making the right selections that consider materials, shapes, designs and functionality, you can transform your dining area into an inviting, comfortable space that complements your lifestyle.
Plus, with careful maintenance. Also this investment can serve you and your family for years to come, providing a space for meals, conversation, homework and more. Choose wisely, and enjoy the journey of making your kitchen not just a place to cook, but a center of home activity and togetherness.